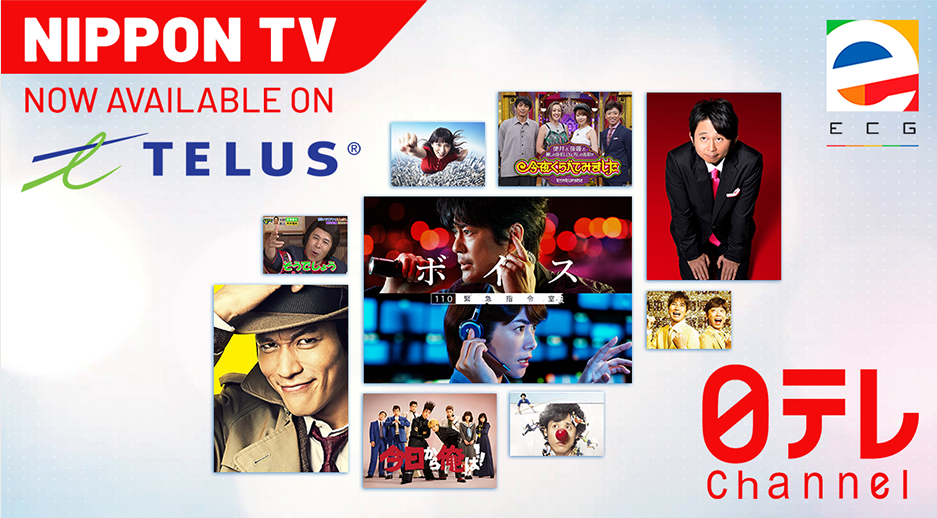 JAPAN'S NIPPON TV CHANNEL LAUNCHES ON TELUS OPTIK TV IN CANADA
Nippon TV's hottest programs now available in Canada
August 25, 2020
Toronto - Ethnic Channels Group Ltd. (ECG), the world's largest ethnic broadcaster, is pleased to announce the launch of NIPPON TV Channel on TELUS Optik TV. NIPPON TV Channel is brought to you by Nippon TV, Japan's #1 rated broadcasting network and production powerhouse.
Nippon TV's viewer ratings have topped all timeslot categories for the past five consecutive years. Its leading drama series Mr. Hiiragi's Homeroom won the Grand Prix for a Dramatic Series at this year's Tokyo Drama Awards in October and will be on NIPPON TV Channel in the coming months.
Nippon TV's Mr. Atsushi Sogo, President of International Business Development said, "We are very pleased to be launching on TELUS Optik TV and extending our offering to cable subscribers in British Columbia, Quebec and Alberta. Viewers have been requesting NIPPON TV Channel in Canada, so we are pleased that TELUS is the first major cable operator to answer those requests."
"Japan and Canada share a close relationship and Nippon TV is proud to provide familiar, high-quality content to the Japanese diaspora in Canada," said Slava Levin, CEO of ECG.
NIPPON TV Channel is now on free preview on Optik TV on channel #2923.
More details are available at telus.com/optiktv
SHARE