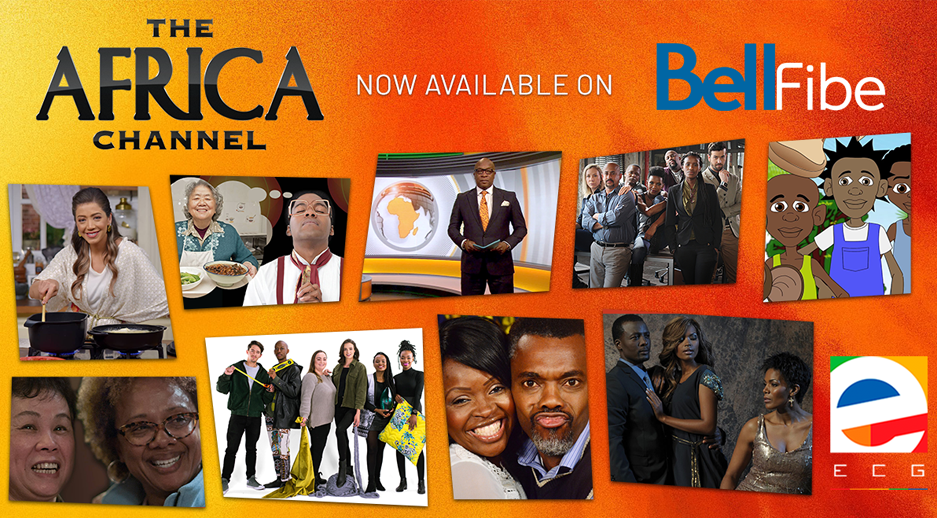 THE AFRICA CHANNEL NOW AVAILBLE ON BELL FIBE TV
Programming showcases a daily view of modern African life, helping to demystify Africa for Canadian viewers
September 21, 2020
Toronto - Ethnic Channels Group Ltd. (ECG), the world's largest multicultural broadcaster, is pleased to announce that The Africa Channel is now available on Bell Fibe TV in Ontario and Québec.
The Africa Channel features unique English-language Pan-African television series, documentaries, feature films, music, specials, daytime drama, biographies, current business analysis, and historical and cultural content. Based in Los Angeles, The Africa Channel is available in approximately seven million homes in the USA and the Caribbean, and now in Canada on Bell Fibe TV.
Slava Levin, CEO of ECG stated, "With travel restrictions brought on by COVID-19 and cancelling of large scale and family events, we are pleased to provide Bell Fibe TV viewers access to the uplifting, educational and entertaining programming featured on The Africa Channel. "This unique programming is under-represented on mainstream networks and can be a source of comfort and enjoyment to these viewers."
"We are delighted to partner with ECG to connect audiences in Canada to the best content from across Africa and the diaspora," said Narendra Reddy, General Manager of The Africa Channel. "In these challenging times, we feel privileged to be able to play our part in bridging cultures and celebrating differences through authentic storytelling and entertainment."
The Africa Channel is now on free preview on Bell Fibe TV channel 1617.
For more information about The Africa Channel, please contact Jodi Morelli at 416-301-3100 Ext. 347 or via email at jodim@nextologies.com.
SHARE